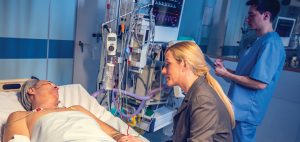 Compassionate Care Close to Home
When you or a loved one are critically ill or injured, the compassionate and knowledgeable healthcare providers at Berkeley Medical Critical Care Unit are ready to help. Each patient facing a life-threatening illness or injury in our 20 bed unit is able to receive the personalized treatment they need.
Berkeley Medical Center is nationally verified by the American College of Surgeons, Committee on Trauma, as a Level III Trauma Center. It is one of only three State designated Level III Trauma Centers in West Virginia. The facility is also recognized as a Primary Stroke Center and Certified Chest Pain Center.
Critical Care Team
The Critical Care team at Berkeley Medical Center believes in providing excellent quality care to our patients and families through compassion, respect, and evidence based practice. We use a multidisciplinary approach to ensure all aspects of the patient's needs are addressed on a daily basis.
The Critical Care Team includes:
Nurses
Advanced cardiac care techs
Respiratory therapists
Physical therapists
Occupational therapists
Social workers
Case managers
Hospitalists
Internists
Specialty physicians
Location and Contact Information
Berkeley Medical Center Critical Care Unit
2500 Hospital Drive, Martinsburg, WV 25401
Located on the Second floor
304-264-1265
Visiting Policy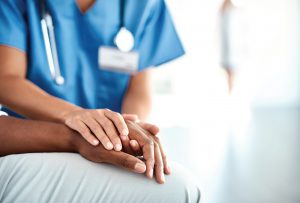 At the Berkeley Medical Intensive Care Unit, you can be assured your loved one is being cared for by WVU Medicine's compassionate and knowledgeable healthcare providers. We are a family centered unit that recognizes the important role family and friends play in healing.
Each patient can designate one person as their Primary Support person to act as the "Family Spokesperson." This individual may visit anytime during their hospital stay, and remain in the room overnight. However, our overnight accommodations are limited, and require proper identification that must be obtained from security after 9:00 pm.
We do offer visitation from 9:00 am – 9:00 pm, in which two people at a time may visit. During the quiet time hours of 1:30 – 3:00 pm and 2:00 – 4:00 am, visitation is restricted to the Primary Support Person only. Exception are made on an individualized basis, depending on the circumstances.
Restricting visitation may be requested by the patient, necessary for clinical procedures and treatments, and/or if behavior is disruptive or presents risk to patients and staff. Visitation is also limited to children under the age of 12, however they cannot be left unattended in the patient's room or waiting room. Under special circumstances children may be allowed to visit for a short period of time with the pre-approval of the ICU charge nurse.
How to get in the Critical Care Unit
The Critical Care Unit has two visitor entrances. From the waiting room, you will either go left or right, depending on the room number. At each set of double doors, there is a grey doorbell that will ring to one of the three nurse's stations. In the event no one has answered in a short period of time, please ring it again. The staff will ask for the patient's name and room number and open the doors. We ask that you ring the doorbell with each visitation, even if the doors are open, as to ensure the privacy of our patients.
Infection Control
Anyone having cold /flu symptoms, or any indications of a contagious disease, should NOT visit with an already ill patient. Everyone must wash their hands, either with soap and water or hand sanitizer, prior to entering and upon exiting the patient's room. Live plants and flowers are prohibited in the ICU and the patient's rooms, as they often harbor bacteria. Visitors must adhere to any patient's designated isolation precautions noted on their door. Visitors are not allowed to eat or drink in the patient's room.
Cellular Phones
Cell phones are allowed only in the patient's room and waiting room. We respectfully ask that while visiting, you remain in the patient's room and not wonder throughout the unit
Waiting Room
Please be mindful the waiting room is shared by other families. Sleeping overnight in the waiting room is not allowed. Please do not rearrange the furniture. A volunteer is at the desk at various times, but may not always be there. Coffee and tea are provided with condiments. You may eat in the waiting room, but we ask that you clean up afterwards.
Important Information
This is a smoke free campus. All doors are locked at 9:00 pm, except the main lobby doors, which security controls after hours. Security is located in the main lobby, beside the gift shop. The cafeteria is located on the first floor, and vending machines are available after hours as well.