DURABLE MEDICAL EQUIPMENT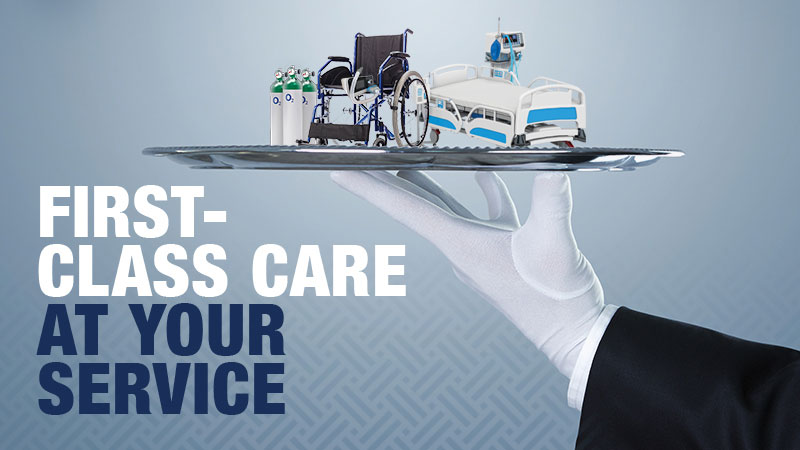 Allied Health Solutions offers durable medical equipment (DME) services to patients throughout West Virginia and surrounding states. Our team is committed to delivering affordable, high-quality products and equipment to ensure a seamless extension of patient care.
Combined with our home health and hospice services, you can count on Allied Health Solutions DME to meet your needs with compassionate, patient-focused services and products. Our close connection to WVU Medicine helps us provide a comprehensive DME offering with direct ties to world-class medicine and continuity of care. We're all working together with your well-being as our top priority.
Patients and providers can utilize our comprehensive online catalog to look up available equipment. Allied Health Solutions DME is here for you and your family whether you or a loved one needs orthopedic bracing, a CPAP machine, accessible bed rental, canes for the assistance of musculoskeletal recovery, ventilators for patients with COPD, or a host of other in-home health equipment. We offer white-glove delivery and set-up services to ensure that your equipment is safely installed and ready for use. We also make sure you know how to use it.
Allied Health Solutions has stores conveniently located In Bridgeport, Martinsburg, Charles Town, and a new store opening in the fall in Morgantown.
Payment information
If you are worried about paying for DME, please call us – we are here to help. Our care team will work with you to determine if your insurance provider has a DME benefit and provide you with accurate pricing information. Depending on insurance coverage, some of our patients have no out-of-pocket costs. Our experienced team will work closely with you to answer questions and set up any necessary equipment orders.
Apply for CareCredit
If you need help paying for durable medical equipment, consider using CareCredit, a healthcare credit card which allows you to make convenient monthly payments.