First Class Care
United Hospital Center
Click play on the video above to watch and listen to the UHC piano
Congratulations to the Auxiliary Volunteer of the Year: Gloria McClung
Gloria began volunteering at United Hospital Center in February, 1998. She has always volunteered in hospitality, which is the transporting of patients who are being admitted or discharged. Gloria is 92 years young and volunteering is her life. She has said before that if she didn't have this volunteering to do, she would just die. This 92-year-old lady does this, not once, not twice, but three times a week! Gloria has accumulated a total of 6,590 volunteer hours. She taught exercise classes at The Senior Center for ten years before she began volunteering which may have given her this extra ability to keep going. We definitely believe she has gone above and beyond, and continues to on a weekly basis. Gloria seldom misses a volunteer day at our hospital. She is truly dedicated to her volunteer services. Gloria also helps to train our teen volunteers when they come on board during the summer.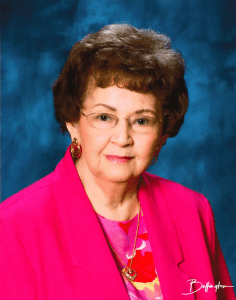 In her younger years, Gloria was employed by Hazel Atlas Glass Company, Continental Can, Brockway Glass and Newell Glass. She served as a selector/packer and wear inspector.  A few of her hobbies are ceramics and sewing. She is an expert seamstress and has made men's suits, all the family's work clothes, pant suits and many alterations.
Gloria was born in Clarksburg, West Virginia and spent her entire life in this area. She was married to Charles McClung who passed away in 1980. She is the mother of three children: Daniel McClung and Charles McClung, both of whom live near her, and Sharon Martz who is married to Dr. Michael Martz of North Carolina.