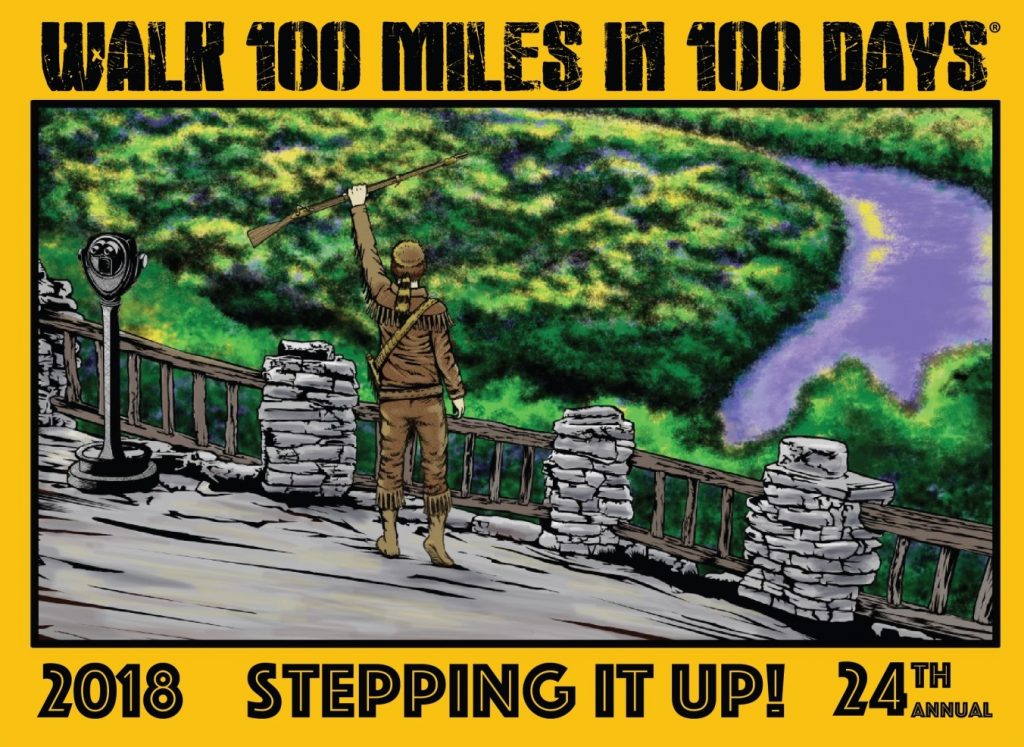 The 24th Annual Walk 100 Miles in 100 Days® will run from Monday, April 16 through July 24. The theme of this year's program is: Walk 100 Miles in 100 Days® Stepping it Up!

The program encourages participants to develop the habit of walking at least one mile a day as a form of exercise. "Last year we had nearly 4,000 people participate in a sustained exercise program which included employees and their families and community members," said Dave Harshbarger, wellness manager for WVU Medicine/Health Sciences Center making Walk 100 Miles in 100 Days® the largest exercise program in the state.
Reminder: participants can track and record all miles completed without a weekly cap. Participants can use an Individual Mileage Form to record their miles and submit to their team captain.
Team captains update their team's mileage weekly on the following website: https://walk100miles.wvumedicine.org/Login.aspx
For more information, call the Wellness Center at (304) 293-2520.
  24th Annual Walk 100 Miles in 100 Days® Week #11 Team Leader Board (based on average miles – 7/6/18)
| Rank & Team Name | Team Captain | Number of Members | Total Miles | Average Miles |
| --- | --- | --- | --- | --- |
| 1. SOGGY BOTTOM BOYS | Blanks, Aaron | 12 | 7719 | 643 |
| 2. DUST BUSTERS I | Roy, Tina | 7 | 2560 | 365 |
| 3. TRIPLE CROWN POWER WALKERS | Povroznik, Kelly | 13 | 4732 | 364 |
| 4. KICKING IT FOR KIDS | Haufe, Christine | 6 | 2088 | 348 |
| 5. WALKING WONDERS | Richardson, Judith | 14 | 4800 | 342 |
| 6. MIDNIGHT EXPRESS | Patterson, Kacei | 7 | 2330 | 332 |
| 7. HSC MOVERS & SHAKERS | Fortuna, Tom | 7 | 2272 | 324 |
| 8. UNDEFEETERS | Phillips, Janet | 6 | 1902 | 317 |
| 9. SOPH | Davis, Tara | 10 | 3088 | 308 |
| 10. MUCUS QUEENS | Ratcliff, Kayla | 5 | 1533 | 306 |
| 11. COMMITTEE | Sampson, Elaine | 3 | 902 | 300 |
| 12. TWISTED BLISTERS | Richards, Katherine | 12 | 3568 | 297 |
| 13. PAIN BUSTERS | Peiffley, Becky | 27 | 7644 | 283 |
| 14. DERMABRASIONS | Mazurek, Monika | 15 | 4109 | 273 |
| 15. PACE MAKERS II | Gray, Hollie | 22 | 6010 | 273 |
| 16. LAB RATS | Carter, Carol | 18 | 4831 | 268 |
| 17. SPARKLE MOTION | Butcher, Liz | 6 | 1586 | 264 |
| 18. RAD-CLIFFE HANGERS | Kennedy, Samantha | 31 | 8137 | 262 |
| 19. HEALTHY MINDS CENTER | Spurbeck, Lora | 14 | 3492 | 249 |
| 20. PEDS PEEPS | Gaydosh, Michael | 16 | 3953 | 247 |
| 21. PAYER RELATIONS | Butorac, Emily | 7 | 1724 | 246 |
| 22. SASSAFRAS | Mugrage, Brittney | 13 | 3136 | 241 |
| 23. BABY WHISPERERS | Vangilder, Ashlee | 12 | 2889 | 240 |
| 24. WILD, WONDERFUL WALKINEERS | Lane, Kimberly | 34 | 8065 | 237 |
| 25. BOOKIN' IT | Tapia, Jessica | 19 | 4495 | 236 |
Leader board rankings out of a total of 287 teams