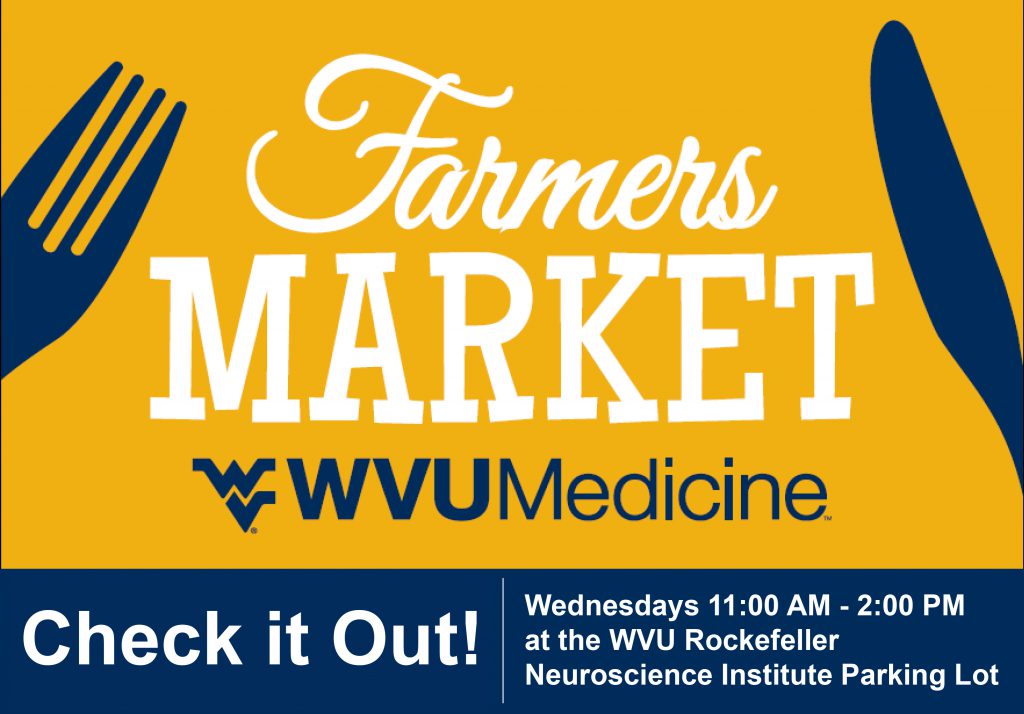 Entering into its tenth season, the 2018 WVU Medicine Farmers Market is not only an onsite resource for employees to purchase everything from fresh produce from farmers to lunch food from area restaurant vendors, but also a reason to spend out of office time actively outdoors as well.
Parking: Vendor parking only. There is NO parking at the farmers market for offsite employees and community members. Parking for anyone wanting to visit the farmers market who is not a vendor is located at the Mountaineer Station Parking Garage.
Click on the following links for more information about the WVU Medicine Farmers Market:
Do you have questions about the WVU Medicine Farmers Market? Are you interested in becoming a participating vendor?
Please email farmersmarket@hsc.wvu.edu or call 304-293-1819.
Also returning will be the summer concert series! The concerts will be held each Wednesday during the farmers market on the WVU Rockefeller Neurosciences Institute lawn area.
Summer Concert Schedule:
Date  &  Performer:
7/18/2018   Tom Batchelor
7/25/2018   Jason Jaros
8/1/2018   Jenny & Nathan
8/8/2018   Jason Jaros
8/15/2018   Tom Batchelor
8/22/2018   Jenny & Nathan
8/29/2018   Kevin Hamric
9/5/2018   Wes Hager
9/12/2018   Mountain Sugar
9/19/2018   Jones Avenue
9/26/2018   Jenny & Nathan
10/3/2018   Wes Hager
10/10/2018   Kevin Hamric