In addition to digital x-ray, fluoroscopy, CT and ultrasound, our Diagnostic Imaging services include the latest technologies in 4D Ultrasound, MRI and digital mammography. To learn more about how you can benefit from our imaging services, call (304) 473-2053.
3D and 4D ULTRASOUND
St. Joseph's Hospital of Buckhannon now has an innovative new tool for patient care with the acquisition of the LOGIQ™ E9 ultrasound system from GE Healthcare.
"The LOGIQ E9 expands our diagnostic ultrasound capabilities beyond what we've previously been able to accomplish," said  Kimberly Radcliff, Service Leader for Diagnostic Imaging.  "No two patients are alike.  This advanced technology takes body type into account, from small pediatric patients to large adults.  We get clear, detailed scans that help us provide excellent patient care for the community."
With volume ultrasound, it is able to capture 3D and 4D images of organs and tissues, enabling physicians to see them from every angle.  The ultrasound system is also able to image fetal facial characteristics.
"This new ultrasound gives our physicians highly detailed scans to help them make informed diagnoses and determine treatment options," said Sue Johnson-Phillippe, President and CEO of St. Joseph's Hospital.  "It shortens exam times for our patients and opens the door for our physicians to a wider variety of advanced applications.
Thousands of ultrasound tests are done in the U.S. each year. It is a non-invasive medical test that uses high-frequency sound waves to create images of internal body structures and organs as well as to show blood flow through vessels.  Sound waves are sent and received by a hand-held device called a transducer which is placed on the body.
"Ultrasound is growing in use for a number of reasons.  The latest ultrasound technology produces images of the body that have exceptional clarity.  Advanced features enable us to work efficiently as we obtain information for diagnosis and treatment planning," said David Rosiello, MD, Medical Director of Imaging.  "Patients like the fact that ultrasound exams are non-invasive and do not expose them to the same radiation as X-Ray or CT exams.  Additionally, ultrasound exams generally cost less than other ty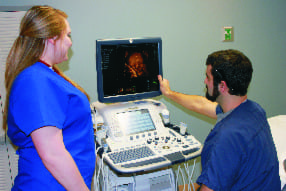 pes of exams, such as CT or MRI."
This ultrasound system uses an innovative new technology called Agile Acoustic Architecture which quickly captures extraordinarily detailed and uniform images of internal organs and tissues.  It is an important benefit because of the increasing number of obese patients who can be more difficult to scan due to distortion of the diagnostic sound waves when they attempt to penetrate large body mass.
A new high-frequency transducer also increases the resolution and detail in breast tissue and thyroid nodules, standardizing the labeling, measuring and describing of lesions and nodules in breasts and thyroids.