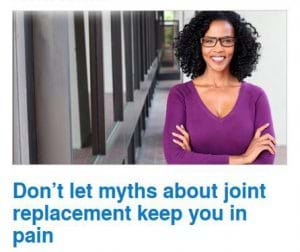 The Center for Joint Replacement at WVU Medicine can help enhance your quality of living with your new prosthetic joint. The surgery aims to relieve pain, restore your independence, and get you back to work and to your other daily activities.
Primary candidates for total joint replacement surgery are individuals with chronic joint pain from arthritis that interferes with daily activities: walking, exercise, leisure, recreation, and work. The joint care team will plan your individual treatment program and guide you through it.
Your care team includes doctors, nurses, and physical therapists who specialize in total joint care. Every detail, from pre-operative teaching to post-operative exercising, is reviewed with you.

WVU Orthopaedic Joint Replacement Team
The Center for Joint Replacement at WVU Medicine offers you a comprehensive planned course of treatment. We believe you play a key role in ensuring a successful recovery. Our goal is to involve you in your treatment through each step of the program.
WVU Medicine Health Report: Robotic Hip Surgery