WVU Medicine Pharmacies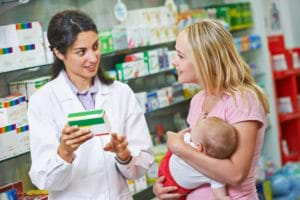 We have three retail locations to better serve you.
The Medical Center Pharmacy and Mountaineer Pharmacy are full-service pharmacies for WVU patients, students, and the community. We bill most insurance and major pharmacy prescription plans. We offer competitive pricing on medication and a 10 percent discount for senior citizens, WVU faculty, staff, and students.
The WVU Medicine Discharge Pharmacy is located within the Medical Center Pharmacy.
At our pharmacies you will find personalized care, prompt and accurate prescription refills, and more:
Free prescription transfer
Savings on specialty medication
We accept all forms of payment including the WVU Mounty Bounty Cards
Home delivery via USPS mail
A variety of in-stock injectable and specialty medications on site
Medication compounding
Medication therapy management
Patient education
Private counseling with a pharmacist
Free and convenient parking
Automated Refill
When you refill your prescriptions, you can enroll in our automated refill program. Eligible prescriptions will be automatically refilled before they run out. We will notify you when your medication is ready or you can have it automatically delivered to you.
Sundries
We also offer a variety of in-stock items, such as over-the-counter medications, personal hygiene, wound care, eye care products, contact lens holders, earplugs, dental care, and foot care items.
You can always find:
Headache remedies
Vitamins
Allergy medicine
Cough medicine
Cough drops
Antacids
Bandages
Antibiotic ointments
Anti-itch medication
Heat wraps
Eye patches
Eye-droppers
Shampoo
Deodorant
Shaving cream
Aftershave
Soap
Moisturizing lotion
Lip balm
Tissues
Women's hygiene supplies
Specialty items include:
Diabetic supplies
Blood pressure kits
Pill splitters, pill cases
Questions
Your health and well-being is important to us. For us to better understand your needs, we encourage you to speak with a pharmacist. Contact us if you have questions or concerns regarding:
Medication you are taking
Disposal of expired or unwanted medications
Questions regarding our Patient Education Programs
WVU Medicine pharmacies provide our community with advanced services that are not always commonly available. We take pride in offering our patients the highest level of care and competitive pricing strategies.
Pharmacy Compounding Services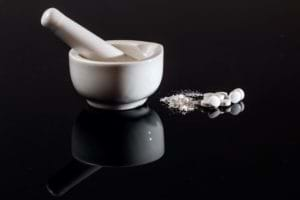 Sometimes patients need unique custom drug strengths, dosage forms, or a combination of medications that are not available in a pre-manufactured way. In these instances your physician writes a prescription for what you need, and a compounding pharmacy mixes the needed medication. Not all pharmacies are able to offer compounding services. WVU Medicine pharmacies are pleased to be able to offer this unique service.
Advantages of a custom medication include:
Custom-made medication that is unavailable from drug manufacturers
Prescription flavoring to help children take their medicine
Easier to use dosage formats – for people with difficulty swallowing
Custom-made strengths
Custom-made combinations of medications
Patient Education and Information about Over-the-Counter Medications
Some over-the-counter medications can interfere with prescribed medications. Our pharmacists are always available for patient consultations to help you determine which nonprescription drugs you can use safely.
Blood Glucose Monitor Training
We train patients to use their blood glucose monitoring equipment properly. Some monitors are easier to use because they have fewer steps to operate. Some machines use less blood or time to get results, but the training will show you how to correctly operate your testing system so you can ensure that you are getting the most accurate readings.
We will train you to properly store and check your testing supplies for your monitor. Because test strips and monitor supplies can be expensive, we can help you verify that your insurance company covers the cost of the supplies before purchasing your monitor.
Our staff will teach you how to properly clean and maintain your selected unit and how to ensure your glucose monitor's accuracy.
It is important, in addition to monitoring your blood glucose levels, that you maintain a written log of blood glucose test results. We will show you how to keep your testing records so you can take them with you to your doctor's appointments.
Contact us to schedule an appointment for your diabetes monitoring equipment training.
Face-To-Face Diabetes Program with PEIA
If you have PEIA insurance and are a diabetic, this program can help improve your health and save you money.
In this program, pharmacists work with you to teach you about your condition, train you on the use of your testing meter, track your blood sugar level, and evaluate and track your medications to help you achieve the best level of health.
For more information, visit the West Virginia Public Employees Insurance Agency Face To Face Care Management Program website.
1 Medical Center Drive
Morgantown, WV 26506
Phone: 304-598-4848
Toll Free: 833-988-1627
Located on the first floor of the Physician Office Center, next to Ruby Memorial Hospital.
Medical Center Pharmacy hours of operation are:
Monday to Friday – 7:30 am to 6 pm
Saturday – 10 am to 2 pm
Closed on Sunday and holidays
Free 15 minute parking is available in front of the canopy of the Physician Office Center.
Medical Center Pharmacy offer automated prescription refills 24 hours a day, seven days a week by calling 304-598-4848 and entering your prescription number or by clicking the prescription link and ordering online. You can pick up orders during regular business hours.
Prescription Refills
When refilling a prescription over the phone or online, please be sure to have your prescription number ready. Your prescription number is located on the front of the label just above your name.
.
By Phone – To refill your prescription over the phone please call 304-598-4848.

Online – To refill your prescription online, click the blue Refills button to the left and complete the Refill Request Form.
Form Directions
When filling out the refill form, remember that fields with an asterisk are required fields.
Under the Patient Information section, enter your first and last name. The last name must be entered exactly as it appears on the prescription label.
Under the phone number, please enter a number where you can be reached if the pharmacist has a question.
The e-mail address field is optional. If you wish to receive an e-mail confirming that your order was received by the pharmacy, enter your e-mail address.
In the prescription boxes, enter the prescription number or numbers that you wish to refill. You may enter up to eight prescriptions. The prescription number is located on your prescription label, the above example shows you where to locate the prescription number on your bottle.
All prescriptions entered must match the last name as written on the bottle label.
You can choose to pickup your prescription at the pharmacy or have it mailed to your home. You may also choose to have the pharmacy contact your doctor if your prescription needs authorization.
When you call to request a refill, the IVR system communicates with our pharmacy to verify the prescription status and determine if refills are available or if it is too soon to refill. The IVR system will tell you when your order will be ready.
Patient Safety
The Medical Center Pharmacy uses a robotic system for prescription accuracy and patient safety. We have installed a robotic prescription dispensing system that can automatically fill up to 200 common prescriptions and the SP Checkpoint, which is a system that verifies other medications, such as liquid or specialty prescriptions.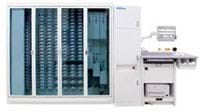 ScriptPro's SP 200 is a proven and reliable prescription dispensing system that automates the repetitive, manual dispensing tasks most subject to human error.
The SP 200, interfaced with the pharmacy computer system, delivers filled and labeled vials for up to 150 prescriptions per hour. The system contains 200 universal dispensing cells. It handles tablets and capsules of all shapes and sizes and supports standard pharmacy vials. Because the system fills directly from the dispensing cells, there is no drug cross-contamination. The SP 200 also prints and applies the prescription and auxiliary labels and delivers uncapped vials for final inspection using on-screen drug image verification.
Bar codes are used throughout the process for accuracy and quality control. Pharmacists manage the dispensing process from prescription entry to approval of the finished product.

SP Checkpoint is an interactive prescription verification, tracking, and management device that provides control over the entire dispensing process.
With SP Checkpoint, managers and supervisors can access pharmacy operations, local or remote, and view the status of prescriptions in process. Workload and workflow can be managed on-screen in real time.
Used at the point of dispensing, SP Checkpoint provides paperless prescription tracking and batching for each patient.

SP Station is a compact, interactive device for manually dispensing medications. The countertop unit integrates a touchscreen monitor, labeling device, and bar code scanner to provide workflow control and dispensing accuracy.
SP Station interfaces with ScriptPro's SP Central Workflow System to display on-screen prescription status lists and automate the collation of patient prescriptions. It presents prescription labels after verifying that the correct drug has been scanned, ensuring labeling accuracy.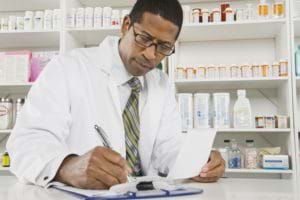 390 Birch Street
Morgantown, WV 26505
Phone: 304-285-7348
Toll free: 833-988-6867
Mountaineer Pharmacy is conveniently located on the ground level of the Health and Education Building, near WVU Student Health and the WVU Urgent Care, Evansdale location.
Download a printable map | Click on the map to enlarge.
Mountaineer Pharmacy hours of operation are:
Monday to Saturday – 8 am to 8 pm
Sunday – 10 am to 6 pm (NOTE: Access to the WVU Health and Education Building – first floor, doors that face Towers – will be limited on Sundays. To visit Mountaineer Pharmacy, use the ground level entrance.)
We offer automated prescription refills 24 hours a day, seven days a week by calling 304-285-7348 and entering your prescription number or by clicking the prescription link and ordering online. You will be able to pick up orders during regular business hours.
When refilling a prescription over the phone or online, please be sure to have your prescription number ready. Your prescription number is located on the front of the label just above your name.

You can pick up your prescription at the pharmacy or have it mailed to your home. You may also have the pharmacy contact your doctor if your prescription needs authorization.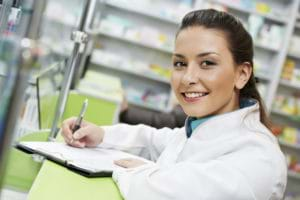 The WVU Medicine Discharge Pharmacy offers in-house delivery for patients at Ruby Memorial Hospital and mail delivery to patients' homes. It is located on the first floor next to Starbucks and the Gift Shop.
The Prescription Shop specializes in discharge prescription service. Patients have immediate access to their medications, even before leaving the hospital.
We offer:
Optional "meds-to-bed" delivery service for new prescriptions
Competitive pricing and fast, accurate service
Private counseling available with our pharmacists
Specialty and hard-to-get medications
Pharmacy compounding
Free mailing for medication refills
Immunization service
Prescribers can print, fax, phone, or send electronically.
Payment
We operate like any other retail pharmacy. We accept and bill most prescription insurance plans. Don't have your insurance card? We can call your local pharmacy to obtain the information.
If you have a co-pay for a medication, we will call your room to let you know the total before delivering your medicine. Co-pays can be paid by cash, check, or credit card.
Refills
You may receive some medications that have refills. If you choose not to use a WVU Medicine pharmacy for further service, we can transfer the remaining refills to your local pharmacy.
Questions
Give us a call. We are more than happy to answer any questions you may have before and after discharge. Call 304-598-4430 or dial 74430 from your room.
Medical Center Pharmacy
Address
1 Medical Center Drive
Physician Office Center
Morgantown, WV 26506
Mountaineer Pharmacy
Address
390 Birch St
WVU Health and Education Building
Morgantown, WV 26505
Discharge Pharmacy
Address
1 Medical Center Drive
Morgantown, WV 26506